Nine Worlds happened this weekend, a convention for fans of anything 'geek'. Games, comics, films, books and T.V. shows were all covered, spanning all age groups and geeky genres. Interesting and apropos academic panels merged well with the more traditional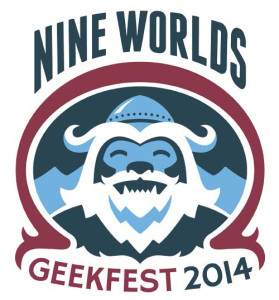 fan-based content. Panels and workshops covered making, creating, discussing, laughing, exploring and of course debating. It was ten times better than last year, a thing I didn't think possible, so well done to all the brainpower and organising people that brought it together.
There will be plenty of coverage on the various media channels about what went on, why it is so different to what is already out there, and how amazing it all was… and amazing doesn't do it justice.
Nonetheless, many will ask "Why, as a creative person, should I get out at all?" Literature Festivals, conventions, workshops. The stress of getting to them, the hassle of taking time off work, maybe even a bit of social anxiety are all real factors, but what you get is so very worth it.
       Meet people & make friends.
At Nine Worlds I met people. Folk that don't look at you like you've come out in a rash of green boils when you blab about your love of Supernatural Whovian crossover fiction. Again. Game of Thrones? Harry Potter? Marvel? DC, Manga, Fanfic, card Games, Board Games? Yes. Even those that have the same love for that long forgotten T.V show, band or quirky colour of almost blue. You. Are. Not. Alone. Not at Nine Worlds. Likewise with various art Festivals I have been to (Eg: Lincoln Inspired, York Literature Festival, Hull Freedom Festival, Beverley Literature Festival.) The panels and events break the ice – if you want it breaking.
       Learn stuff.
Who better to learn from than professionals who are actually working in the field you both love? A workshop panel on podcasting might well set your creativity loose in a different direction, just the thing for that story that keeps getting rejected. An editing workshop might help you hone the sentence structure, or plot knots.
       Build on what you know.
Everyone knows something, (write what you know…right?) but at conventions you get to meet people that have been doing that something for a lot longer than you, and in many different ways. You might share a short cut or discover a pit fall before it finds you. You'll become aware of stuff that's just beginning to bubble up to the surface. The next cool thing tends to start in places just like this.
       Party Hard.
Every genre has its 'party' thing… mostly involving some form of alcohol. Party into the night to music, sing-a-longs, gaming, cheese and wine at the dinner table,  or just a quiet drink among those that don't worry about the dragon on your shoulder.
Even if you don't count the knowledge as a "take away" from such things, the goodie bags are always excellent.
There were books, DVDs (OK, Van Helsing as a boobie prize in a trivia contest, but still), game trades, give-aways and launches. With so large a captive audience in one place the marketing departments go in all guns blazing.
After you've done the making friends, spent time on the learning and the building, who knows, it might be you on a panel soon.