It's nearly August. That means it's nearly Nine Worlds – geekery greatness over a whole weekend. Year three of this pangalatic mash of fabulous creativity and fandom and the peeps are already excited. The grand announcements have begun, who's who on what panel along with the plans for evening frivolity and excitement of the partying style…
Are you going too?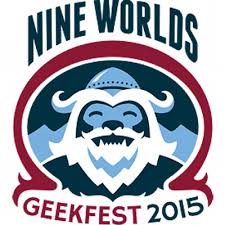 You don't have to be a writer to attend Nine Worlds. You don't need to have made a blockbuster movie. Your resume does not have to list endless gaming productions. All you need to be is you. If you read a bit or watch the Syfy channel, know the script of Alien off by heart or have secret underground cave filled with graphic novels, catch a podcast here and there or happened to have finished Destiny without sleep, it doesn't matter. You'll fit right in. From Dr Who to Super Natural, Animie to Steampunk, Game of Thrones to Star Trek, whatever your "geek" is, it's covered here. Whoever you are, where ever you are from, whatever speculative, SFF genre thing is YOUR thing. It's here.
Don't be the one stuck at home following on Twitter, wishing. Plan ahead! Be a part of it. Don't be put off by the immensity, by the worry of crowds. There are safe spaces too.
So – Part one of the non-pocket sized guide if your thinking about going.
Before July starts…
Buy tickets early. Daft as this sounds…it's cheaper. (There is another price rise imminent!) I know you don't know what you're doing in the next ten minutes, let along the next ten months – but money saved on tickets can be spent on great stuff in the vendor's area. Oh and MAKE USE OF THE INSTALMENTS OPTION!
Book the hotel. This year they're in the Raddisson Blu Edwardian, Heathrow.  The inhabitants of Nine Worlds party hard into the night and taxis are expensive.  (Even more expensive when it's raining!) There are oodles of hotels nearby, including Premier Inn, Ibis and Travelodge. Check sites like Lastminute for cheap options.
Volunteer. If the tickets and hotel refuse to fit the bank balance and you have the skills. Donate your time and help make the event run smooth.
Cosplaying? Get making! I've seen groups and individuals have a blast and there's nothing better than discovering others who love the same film, book, graphic novel, game as you. It's a great icebreaker.
Keep an eye on Twitter, Facebook and the Nine Worlds website. There are some events that must be booked.

These.

Sell.

Out.

Fast

. You got that, right? The one-to-ones, the how-tos with your idol. The once in a solar eclipse opportunities sell out very fast. Oh… and each track has it's own twitter feed. Start here: @London_Geekfest
Download the draft Programme.* (Not yet…soon!) Get excited, but don't plan anything yet! It's only a draft.
Get Digital.* (Soon) Use their software that's there to Keep It Simple. Take time to figure it out. I'm a paper first person, but getting to grips with the event planning software means you won't accidentally miss that one panel you HAVE to see because you found something else that looked interesting. (What do you mean there are three pages of stuff to do on to Saturday?)
Did you take your eye off the website? Ticket only swordfighting, did you miss it? That make your own shiny-thingy, you missed that too? A chance to meet your very most favouritist person who made that thing you like mostist… not going to miss that are ya?
Clear a shelf. Book hauls & goodie bags, exchanges, prizes, shiny things you buy … you WILL need the space. Do this after following step 1. (And don't fill it with other stuff you collect between now and August!)
Part Two…coming soon.
(*Knowing my luck they won't do a draft programme, or a digital planning app thing this time, but there will be something equally as helpful, no-doubt. )